Leopoldpark - Nature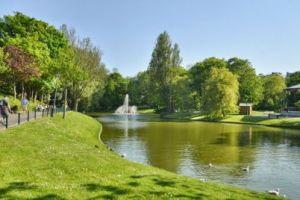 Het Leopoldpark in Oostende werd ontworpen door de tuinarchitect Louis Fuchs naar het model van een Engels park, met bruggetjes, wandelwegen en bloemperken. Het werd aangelegd gedeeltelijk over de oude stadswallen, maar ook gedeeltelijk erbuiten in militair domein. Het heeft een oppervlakte van ongeveer 5 hectare.
Furthermore Leopoldpark is near the following sights: Kursaal Oostende (±350 m), Mu.Zee (±400 m), Three-master Mercator (±450 m), James Ensorhuis (±450 m) & St. Peter and Paul Church (±550 m).
For information:
Leon Spilliaertstraat 41, Oostende
Location