Lighthouse Lange Nelle Oostende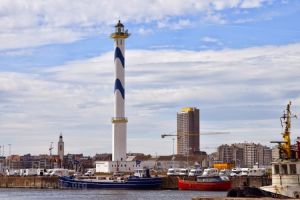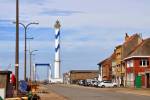 De Lange Nelle is the lighthouse of Oostende. It is one of the four still functioning lighthouses along the Belgian coast; the others are Newport, Blankenberge Heist.
The tower extends 65 meters above the sea and the lamp with Fresnel lenses is positioned at a height of 70 meters. The stairs of the tower has 324 steps.
The lighthouse is not open to the public and it can't be climbed.
Characteristic
Name: Lange Nelle
Built: 1948
Tower height: 65,0 m
Light height (above sea level): 70,0 m
Stair treads: 324
Manned: No
Open to the public: No
Furthermore Lighthouse Lange Nelle Oostende is near the following sights: Fort Napoleon (±400 m), Hangtime (±650 m), Vistrap (±650 m), City Museum Ostend (±850 m) & Jachthaven Oostende (±900 m).
For information:
Vuurtorendok-West, Oostende
Location